There are probably many reasons for Khumbu region having few choices for Internet Services. Not least amongst them is the fact that establishing and running an ISP for the region is extremely difficult, and expensive to boost.

Despite the influx of large number of visitors from all around the globe, Khumbu region is still technologically backward due to its harsh natural conditions. The high hills and large rivers with high current have made building roadways, train tracks and waterways to the region extremely challenging, resulting in air transportation being the only viable option. This has caused transporting devices to Khumbu region very difficult and expensive, which has hindered its technological development. The lack of modern technology has resulted in underdeveloped education systems, health services and telephone and internet facilities in the region.

Despite all the obstacles, Everest Link has started providing Internet Services at extremely difficult and high altitude areas of Khumbhu region. This project challenged us to provide quality of service to customers. But, we have strived to meet the expectations of our customers by delivering on time, innovative and defect-free products and solutions, developed using well defined processes and the best available technology.

We, the people of Everest Link, have offered our blood, toil, tears, and sweat for making the project a success. Most of our work areas are so remote, not even 0.01% of the world population has ever stepped a foot there. There are no proper pathways. The steep mountains and icy, slippery roads made it extremely difficult for us to walk, let alone work. The more terrifying thing is that they are susceptible to accelerated soil erosion and landslides, this on the wake of an avalanche near Everest Base Camp that took the life of sixteen Sherpa's in 18th April 2014.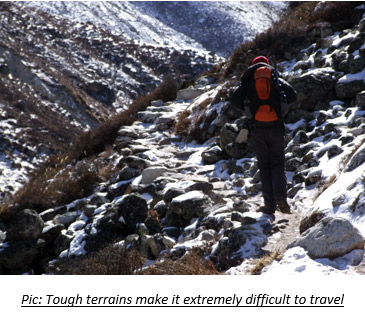 The low temperature often dropping below freezing point and the high wind speeds resulting in high wind chill factors, made the condition worse. The high pressure and low oxygen level leading to fatigue is common. Besides that, the food and water resources are scarce in our working zone. Our field staffs had to depend on molten glacier for water.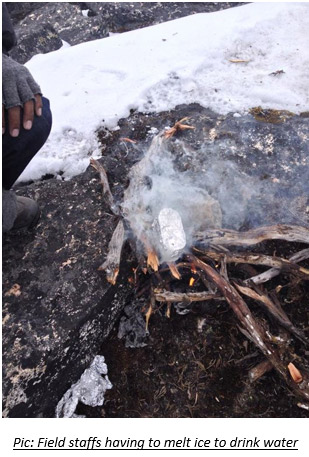 Yet, the main challenge that we faced was of electricity. Hydro-power was non-existent and wind power non-applicable. Solar power was our only alternative for our Access Point, Satellite Phones and Laptops.